Silver Peaks Outfitters Colorado Big Game Hunting · Cortez, Colorado
Guided Colorado big game hunts
Semi-guided deluxe drop camps
Colorado mule deer, elk, black bear
Archery, rifle, muzzleloader hunts
Private ranch hunts, SJNF & BLM
San Juan Mountains GMU 711, 70, 71, 72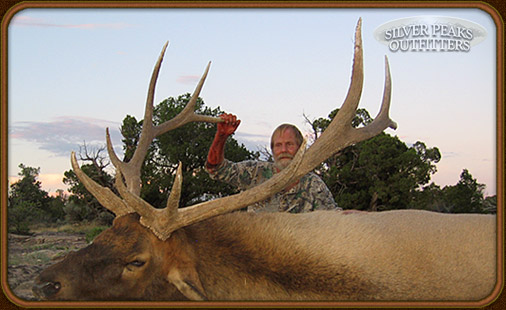 A southwest Colorado big game trophy hunt for Rocky Mountain Elk, Mule Deer or Black Bear is an experience you'll never forget!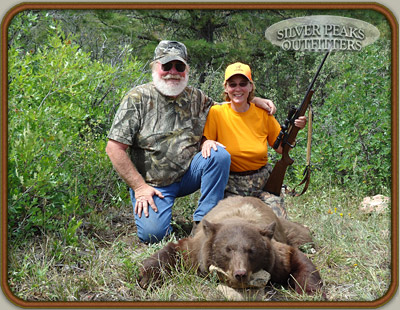 Silver Peaks Outfitters in Cortez, Colorado specializes in semi-guided deluxe drop camps for Colorado big game. Whether you hunt with a rifle, muzzleloader, or bow & arrow, we'll put you where the game is!
Our camps are set up at 7,000 to 9,000 feet elevation in the breathtaking San Juan Mountains and include a variety of terrain and prime hunting habitat. From mixtures of aspen, ponderosa pine and oak brush in the higher elevations down into the pinion & cedars, and out to the agriculture farming country, our hunts put you squarely in premium game territory for a quality hunting adventure.
We use San Juan National Forest and BLM lands, along with tens of thousands of acres of our private ranch land. These lands stretch across portions of 4 counties in Southwest Colorado.
Since the early 1980s we've been privileged to hold a commercial use permit with the USFS and BLM which consists of about 200,000 acres! In recent years we've added another 160,000 acres of BLM and 20,000 acres of Canyon of the Ancients National Monument Lands to our available recreational use permits.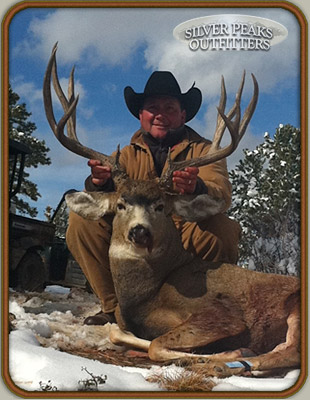 Depending upon location, you'll stay in either cabins or tents. All our camps are furnished with bunks, mattresses, heating and cooking stoves, firewood, water, lanterns or lights, propane, cooking utensils, pots & pans, maps and two-way VHF radios. All you'll need to bring is your personal gear, bedroll, appropriate weapon, proper hunting licenses, and your own groceries.
Upon arrival in camp, we will go through the proper rules & regulations and offer suggestions on where and how to hunt the area you are in. We'll keep checking on you and your group to make sure everything is going along smoothly. Any time questions arise or you need assistance, we can communicate from camp to camp or to our trucks via two-way radio.
You can chase buglin' Bull Elk or stalk wily Mule Deer bucks... or wait near stock ponds, natural reservoirs, springs or trails that have been previously scouted for big game activity. What ever works at the time... we'll be doing it! Of course, no one can guarantee taking a record class animal, but just knowing you are hunting in the right area can do nothing but help your confidence!