Silver Peaks Outfitters Colorado Archery & Muzzleloader Hunts · Cortez
San Juan Mountains GMU 711
Trophy Elk, mule deer, black bear
Colorado Muzzleloader and Archery hunts
Semi-guided deluxe drop camps
Hunting on 1000s of Acres in the San Juan National Forest & BLM
Silver Peaks Outfitters: Archery & Muzzleloader Camp#3
A Semi-Guided Deluxe Drop Camp Hunt for Bowhunters and Muzzleloader hunters on the San Juan National Forest of Colorado!!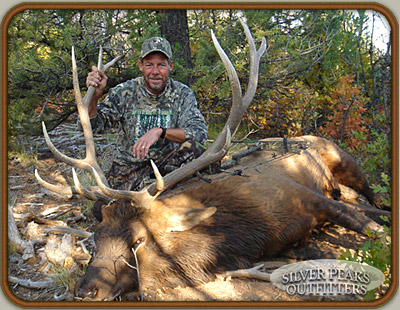 There are literally thousands of acres of Southwest Colorado's San Juan National Forest and adjoining BLM lands that we are authorized to use specifically for Colorado Elk, Mule Deer and Black Bear Archery and Muzzleloader hunting with our commercial use permit.
This area of Colorado offers excellent big game hunting opportunities and a wide variety of terrain: steep Aspen covered mountainsides at 9,500 feet elevation, dropping down into Oak brush and Ponderosa pines and then further down into the Pinion & Juniper forest below 7000 feet. There are deep rugged canyons, flat rolling meadows, and small easy to hunt ridges and draws, as well as numerous man-made stock ponds and secluded springs which attract a variety of wildlife.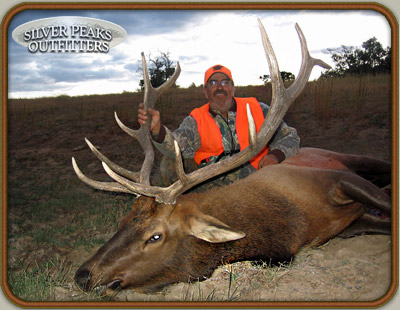 Our Colorado Archery and Muzzleloader hunters will stay in a new hi-tech MGPTS 18' x 36' tent. As with all our camps, it will be completely furnished and equipped, ready for you to bring your personal gear.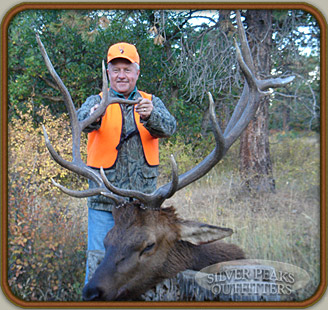 Let us show you where you should be hunting! We've been hunting Colorado big game in this area for over 30 years — so we know where the elk, mule deer and black bear will be to give you the best chance for success. At this location we'll run four 7-day hunts, with 5-6 hunters per hunt.