Silver Peaks Outfitters Colorado Private Ranch Hunts · Cortez, CO
San Juan Mountains GMU 711
Elk, Deer & Black Bear Hunts
1,000 Private Ranch Acres
Adjoins San Juan National Forest
Archery, rifle, muzzleloader hunts
Silver Peaks Outfitters: Private Ranch Hunting Camp#2
Hunt Mule Deer, Elk and Black Bear on about 1,000 Acres of Southwest Colorado Private Land adjoining thousands of Acres of San Juan National Forest!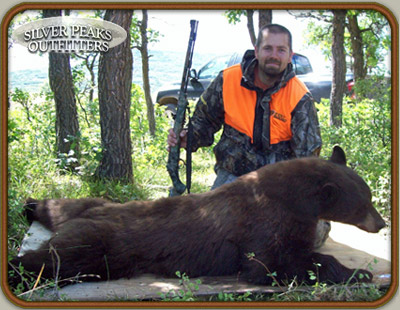 The mountain hillsides climb from 7,800-9,200 feet in elevation. They are mostly covered with tall heavy Oak Brush with some scattered Aspen and Douglas Fir covered benches, rims and hillsides.
Rugged canyons and huge stands of Ponderosa Pines are located nearby, with several springs, seeps and reservoirs in the area. Plenty of steep ridges and draws allow hunters numerous vantage points to overlook. Put this all together and it means excellent Elk, Mule Deer and Black Bear habitat. Add the convenience of thousands of acres of adjoining San Juan National Forest, and you have endless Colorado big game hunting opportunities!!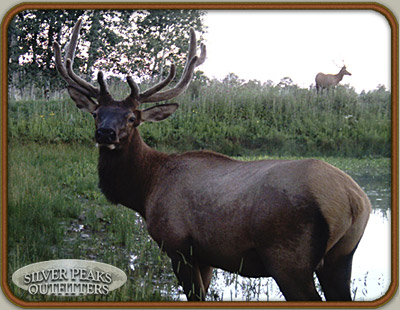 Hunters at SPO's Colorado Private Ranch Hunting Camp #2 will stay in a comfortable new 20' x 28' bunkhouse/cabin, well insulated with efficient propane heat. Propane will also supply the 30" range; 30" x 30" cast iron indoor grill and the lighting. It is also wired for you to bring a small generator to run the lights and outlets, for any added appliances or to recharge any electrical components you might want to bring along.

We've been hunting the adjoining public San Juan National Forest land for over 30 Years and have leased this private parcel since the early 1990s. We know the area well, and we know how to hunt it! 3 to 4 hunters per hunt do well at this location.